Atherton Family Church welcomes all who are looking for a place to worship God or want to find out what He is all about. We are a Pentecostal church with Contemporary worship and Bible based teaching. Our Sunday services cater for the growing family with creche and children's ministries. We pray you find what you are searching for.
About us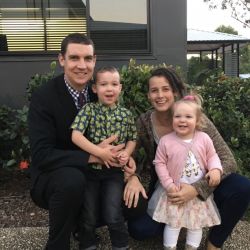 Pastor Samuel and Amy moved to Atherton mid-2014 to plant Atherton Family Church. Samuel is credentialed with CRC Churches International, he also works full time as an early childhood educator at First Step Early Years Learning Centre. Samuel and Amy have 3 children. Jethro 6, Shiloh 4 and Autumn 1.
Kids Church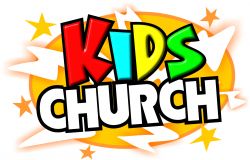 Kids Church is a major part of our Sunday morning service. It runs every Sunday during the school term. Kids Church includes singing, dancing, stories, lessons and art and craft. Kids Church is taught by a collective of great leaders. During the school holidays we have Kids Church takeover services which are fun for children and adults.
JC PRIME Kids Club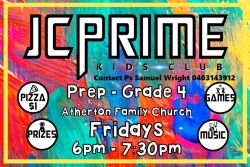 JC PRIME is a kids club that runs every Friday night from 6pm - 7:30pm. We have Games, Singing, Dancing, Pizza and Prizes. JC PRIME is for children in Primary School. It is a free event and pizza is $1 a slice.
Kids on Main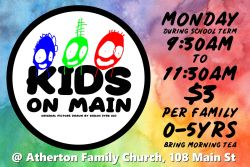 Kids on Main is a playgroup for families with children 0-5yrs. Each week has a different theme with so many new wonderful things for children and parents to explore.
Markets on Main
Markets on Main is an undercover markets that will give locals a new, unique opportunity to showcase their wares on the Main Street of Atherton. Hosted by Atherton Family church in partnership with nearby businesses.
Arise Youth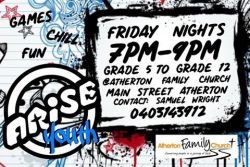 Arise Youth is for young people in grade 5 and above! We join the JC PRIME Kids for pizza @ 7pm before breaking off for games, competitions, prizes, small group discussions and much more. Youth Arise is a free event and pizza is $1 a slice.